1690's french marine musket &
1695 Grenadier Musket
Loyalist Arms & Repairs is proud to announce our new 1690's French marine Musket
and our 1695 French Grenadier Musket**.

Whether you are portraying a French Marine protecting Canada, or a French pirate, (fillibustier),
cruising the Caribbean, you will be well armed with this Tulle Marine Musket.
Late in the 17th Century, the Tulle factory was awarded contracts to provide muskets and pistols for
the dept. of the Marine in France. This musket is an example of one of their earlier models.
The Dept. of the Marine was responsible for arming the colonies in North America and the
Caribbean .
The Tulle factory produced all the marine muskets until the 1740's, when increased demand led
the Dept. of the Marine to also approach the factory at St.Etienne to help supplement the arms requirements
that the Tulle factory could not handle for lack of facilities and space.
**The 1695 Grenadier looks identical to the Marine musket, with the addition of sling swivels on the
left side of the stock and a single middle barrel band. All specs are the same.

This is a beautiful musket with all iron hardware and octagon to round barrel, with two wedding bands.
The stock on this musket has been cut back to accommodate a socket bayonet, however, our production models
are full stocked to the muzzle, (like the originals), and will only accept a plug bayonet, unless the customer desires to cut
the stock back themselves.
Ram rod is wood, and there are no sling swivels. This musket has three ram rod thimbles, but no entry thimble.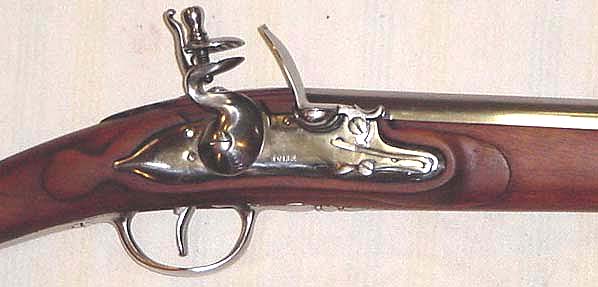 Close up of rounded lock plate, cock, and unbridled frizzen, typical of the pre 1700 French muskets.
"TVLLE" is stamped on the lock plate.



All hardware is iron, and is rounded including the side plate and trigger guard.
Note the rather short tang on the butt plate.



Close ups of the barrel, showing the octagon section ending to round and the two wedding bands as well as the thimble design,
and the trigger guard area, showing the fancy relief carving. The carving is very nice around the barrel tang as well,
just like the originals.
The above picture is of our prototype Marine musket.
Production models do not have the two wedding bands on the barrel between the octagon and round areas.
Our Fusil De Chasse has the wedding bands.
Caliber is .69, and barrel is 45 inch long.
These muskets would also fill the role as trade guns and the Fusil de Chasse for those who like a larger bore.
Order yours today.
Price:
US $697.00 / Can. $850.00
Loading and proofing data available for all our muskets. Trigger pull is approx. 13 1/2 inch.