1777 french cavalry carbine
.
Another new offering from Loyalist Arms.
The 1777 Cavalry carbine.
Revolutionary and Napoleonic reenactors can now obtain an affordable French carbine,
exclusively from your friends at Loyalist Arms & Repairs.
.



This carbine follows the same overall appearance as the 1777 French Infantry musket, except for length and only 2 barrel bands.
The lock is slightly smaller, as is all the hardware.
These carbines were made by armouries in St. Etienne, Charleville, Maubege and Tulle, although many people
today, refer to these muskets & carbines produced from the 1760's-1816 collectively, as Charleville muskets.
The trigger bow, butt plate, and front barrel band are of brass.
Bayonet lug is located on bottom of barrel.
.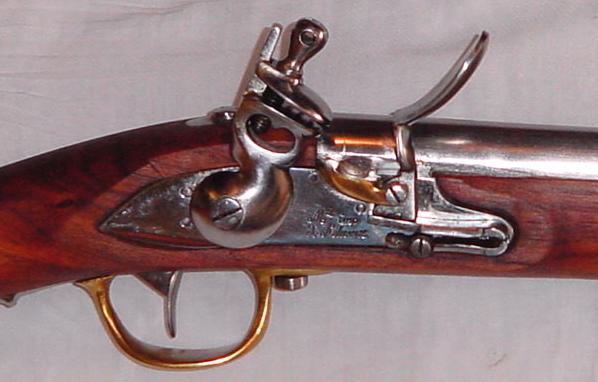 Close up of lock showing similiarity to the 1777 infantry musket.
Has " M.re imp
de St.etienne"
in script on the lock plate.
Available in .65 cal, w. 30" barrel.
Flash pan is brass. There is no accommodation for a sling, (ie. swivels), only a sling bar.
.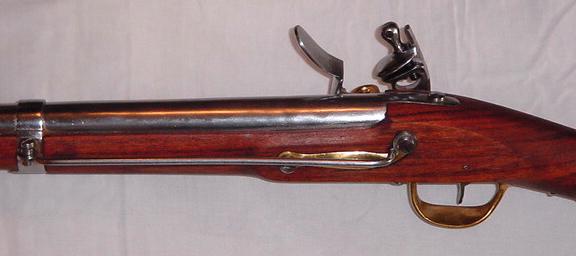 Has proper saddle ring bar installed on the left side of lower barrel band.
Lower band is iron, just like the originals.
This model is very similar to the 1782 carbine and musket de board, (ship musket).
By removing the sling bar, this carbine will appear very close to the ships musket.
These carbines served the armies & navies of King Louis, revolutionary France, and
Napoleon across Europe. They, were also used by several other European powers
during this period.
Some, may even have found their way to North America.
Many of these firearms survived the Napoleonic era, and were converted to percussion in the late 1830's.
.
Guaranteed to spark excellent !!
Warranty on all moving parts and springs.
.
Contact us today for availability.
$780.00 CDN / $649.00 US
.
return to mainpage