Loyalist Arms does it again !!
Another new model US musket .
Appropriate for Mexican War and early Am. Civil War.

The 1840 US flint musket, (also called the 1835, since it was first developed in 1835), was the last
of the official flintlock muskets to be produced in the US.
There were 30,421 of these muskets produced, and over 90% were altered to percussion in the 1850's,
making the flint version of this gun exceedingly rare today.
Government armories produced these flint muskets until 1844 and private contractors produced
them until 1848, well after the percussion system was adopted.
These muskets were used extensively during the Mexican War with the US.
Many units were armed, or partially armed, (up to 30%), with flintlock muskets
at the onset of the Civil War, until either percussion conversions or proper percussion
rifled muskets could be had .
Before you run out to purchase an 1861 Springfield or an Enfield, do some careful research.
You may discover your Civil War unit carried a flintlock musket or a conversion for some time.




All furniture is iron and is almost identical to the later 1842, which was copied from this design.
Bayonet lug is mounted on the bottom of the barrel and front brass sight is brazed to the front band
like the originals .
Has proper style trumpet head rammer.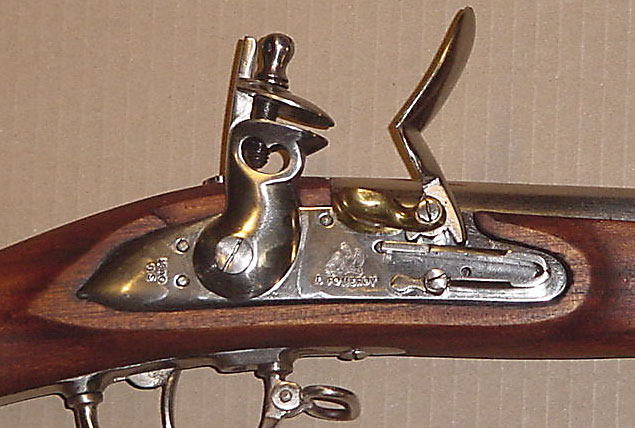 Closeup of lock assembly.
Markings are: Eagle over "L POMEROY " ahead of hammer, and "1840/US." on the tail.
"P" & "V" on barrel near breech and "1840" stamped on bbl. tang. "U.S" stamped on butt tang as well.
We also sell the percussion conversion of this musket.
Earlier dates can be requested.

Left side showing proper iron hardware.
Bayonets are available for these muskets with scabbards @ $64.00 US./$85.00 Can.
SPECS:
Barrel: 42" long, tapered round, in .69 cal.
OAL: 57 3/4"
Weight: approx. 8.8 lbs.
Takes a 1" to 1 1/8" size flint.
Since these muskets are a new offering by our company, there is presently, a limited supply.
Proofing and loading data sent with all muskets.
6 month warranty on all moving parts and 1 year on all springs, free parts and labor.
Order yours today.
Price:
US $697.00 / Can. $850.00