1847 US Cavalry musketoon
For several years, we have been asked to produce an affordable 1847 US Cavalry musketoon.
Growing interest in this item, has finally warranted development and we are proud to be the only
company in the world currently offering this musketoon.
This weapon will make a great accessory for reenacting the western expansion
period and the American Civil War.

This musketoon was originally developed for the US Dragoons in 1840's to replace the breechloading Hall carbine.
Although there were 3 models of this musketoon, we have chosen to develop the cavalry model.
There were 6703 of the cavalry model produced at the Springfield armory between 1847-54.
It has a swivel ram rod and does not accept a bayonet.
This was the first official percussion musketoon produced by the US that wasn't a flint conversion.
These firearms were used throughout the the 1840's-60's.
Some of these musketoons were rifled in the 1850's with dubious results.
Most saw service during the American Civil war.



These models had a very long sling bar mounted on the left side and all hardware was made of brass.
There was no rear sight originally installed on these firearms, only a sight on the front barrel band.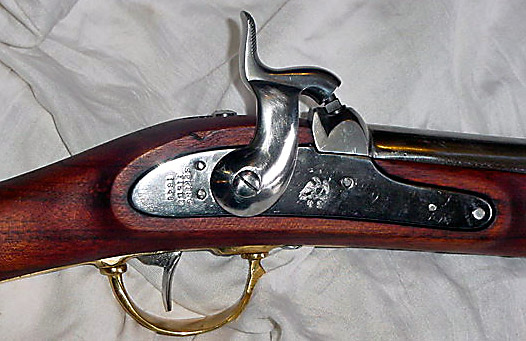 The lock plate is stamped with the eagle over US and SPRING/FIELD over the date of 1848.
The hammer has a slight curl to the comb.
These musketoons were especially valued by Confederate Cavalry, who were usually
short of supplies and proper arms. Many of these firearms were used along side the 1856 Tower
Musketoon by the Confederates, (which we also sell).
Specs:
Barrel: 26 inch in 69 cal. Overall length approx. 41 1/2 inch.
Hardware: All brass except sling bar and swivel ram rod.
Recommended load: 60 grains FFG black powder powder only. Ball size, .65-665.
Takes Euroarms Musket nipple, thread size 8X1.25 metric.

Order yours today.
Price:
US $670.00 / Can. $825.00