1854 LORENZ
Austrian infantry rifle
One of the most imported arms, second only to the Enfield, during
the American Civil War, 1861-65.


Many believe this arm is one of the most under-represented guns of the entire conflict.
The Confederate government purchased over 100,000 of these guns while the union secured over
300,000 Austrian arms, most of them Lorenzs'.
Although they received a rather cool reception from troops on both sides, they helped fill
a serious need for arms during the early days of the war. Many were used
throughout the conflict right on to Appomattox, attesting to their durability and accuracy.


This pic is a prototype model we received.
One of the interesting characteristics of this gun is the spacing of the barrel bands. It almost appears that
they were spaced haphazardly. Another feature is the front sight. It looks like it is twisted on the barrel
but this shape accommodates the angled groove in the bayonet socket.
Many, but not all originals had cheek pieces carved on the left side of the stocks. Our model
has this detail.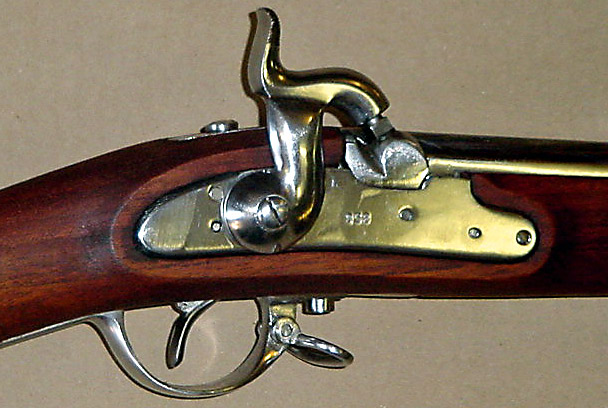 Closeup of the lock.
The Lorenz never had a full date stamped on the lock plate. They only had 3 digits; for example, "858"
meaning 1858. **Updated hammer on all new models.
We can supply other dates from 1854-61 at customers request . Standard date is "858".
We now have the small, Austrian double headed eagle lock stamp for marking behind the hammer
as on originals .


Closeup of front barrel band, etc. All iron hardware like the butt plate, trigger guard,
bands, etc., are characteristic of the Lorenz Rear sight is a simple block design.
Barrel is octagon to round & ram rod has brass band and is drilled like the originals.
Tulip shaped rammer tip available. Rammer Picture click here .
Front barrel bands are properly spaced and correct,(approx. 2 1/2" apart), & offset front sight
make this repro. very accurate.
Bayonets are available @ $94.00 US , $129.00 Can.
Correct cruciform style blade with American style leather scabbard.
These guns should be particularly desireable to Confederate reenactors as many of the
trans-Mississippi army was originally armed with this rifle.
According to the book, "Firearms From Europe" by Whisker, Hartzler, & Yantz, (page 78),
these guns were imported in .54, .55, 577, .58, .59, & .60 cal.
Our copy is made in .60 cal smoothbore to reduce production costs and save on retooling at the factory.
They are made to live fire with ball, and all proofing and loading data is sent with the musket.

Specs:
Barrel length: approx. 37 3/8
Overall length: approx. 52 7/8
Weight: approx. 8 lbs.
Cal. .60 smoothbore ***

Proofing and loading data is supplied with these muskets.
These guns carry a 6 month warranty on all moving parts, and a 1 year warranty on springs.
Contact us for current inventory.
Price, $ 670.00 US/$ 825.00 Can.