1856/61

TOWER CAVALRY CARBINE/MUSKETOON
We at Loyalist Arms and Repairs are pleased to offer our new 1856/61 TOWER Cavalry Carbine.
With the success of the P1853 Rifled muskets, a 2-band sergeants rifle, an artillery carbine and a cavalry
carbine soon followed in 1856.
These carbines were used throughout the British Empire by many mounted troops as well as the
Royal East India Co., British Yeomanry, Colonial Cavalry, and Constabulary units.
During the American Civil War, both the Federal and Confederate forces imported many of these carbines,
with the Confederate government purchasing the vast majority .
The Confederate cavalry used them the most, due to shortages of newer, breech-loading carbines.
American Civil War Cavalry re-enactors now have a proper carbine/musketoon to carry, instead
of the incorrect artillery carbine offered by other companies.

This model has the swivel rammer, (like the originals), 2 bands, single stage rear sight, and sling bar & ring.
This beautiful little carbine has a 25" long, smoothbore barrel in .65 cal.

This lock plate is marked "TOWER" over 1856.
Also Crown over "V.R." at tail of lock plate.
This model uses the musket cap with a nipple thread size of 8X1.25mm, like the Euroarms muskets.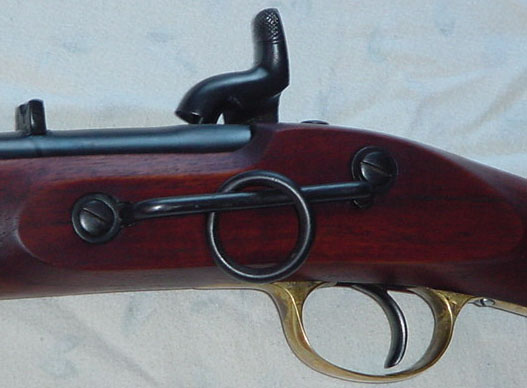 Left side view of the sling bar & ring.
There are no accommodations made for a shoulder sling on these carbines.
All hardware is blackened/blued like originals, not incorrectly color casehardened like many other
reproductions currently on the market.
These firearms are extremely well balanced, light, and a pleasure to point.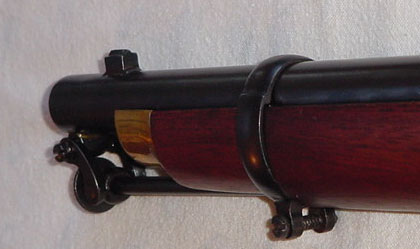 Close up of the swivel rammer.
Front sight is slightly different than that shown.
There was no accommodation made for a bayonet, as it was assumed that any mounted soldier would use
his saber in close quarters.
Proofing and loading data is supplied with these carbines.
These guns carry a 6 month warranty on all moving parts, and a 1 year warranty on springs.
Price, $ 599.00 US/$ 745.00 Can.