Another exclusive offering from Loyalist Arms, due to popular demand.

Although the blunderbuss was very popular with the English, Germans/Prussians, and the Dutch, most
European countries used them to some degree, especially by their navies as a boarding weapon,
and as a coach gun or for self protection .


This model has an 18" barrel in 10 Ga. and all hardware is brass, similar to the 1717-46 French muskets.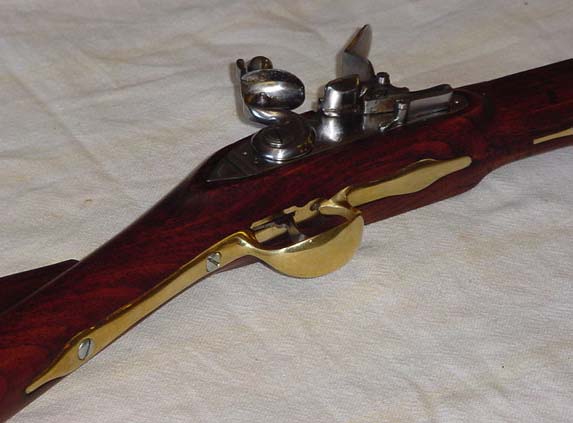 This model has a bridled frizzen. The French were among the first to place a bridle on the frizzens of
their firearms. Ram rod is wood with brass tip and jag installed.
Many American models looked very close in appearance to the French design, in fact, many
early American firearms were made up of various surplus parts from a wide variety of guns.
We have very limited supplies of this gun.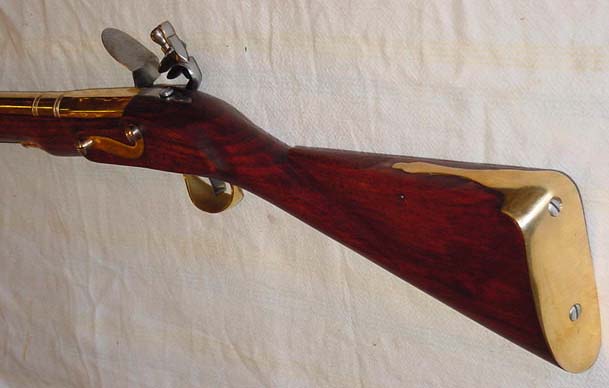 Brass barrel has 2 wedding bands and tapers from octagon to round, then of course,
flares at the muzzle. Breech plug is steel and gun is fully operational.
This is a very unique and attractive firearm, available only from Loyalist Arms and Repairs.
This model blunderbuss fits a wide time period from the early to late 18th Century.
Any privateer, pirate, seaman, officer or coachman would be proud to own such a fine
piece of equipment.
Price $725.00 US/ $870.00 Cdn.