Nautical And Brass Accessories
.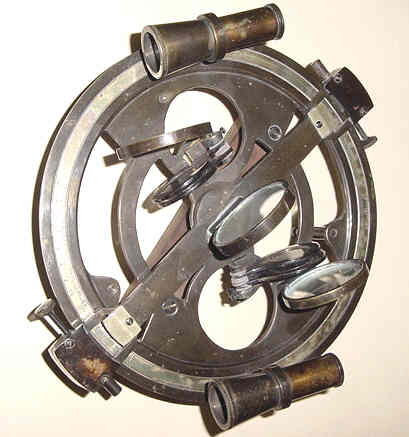 .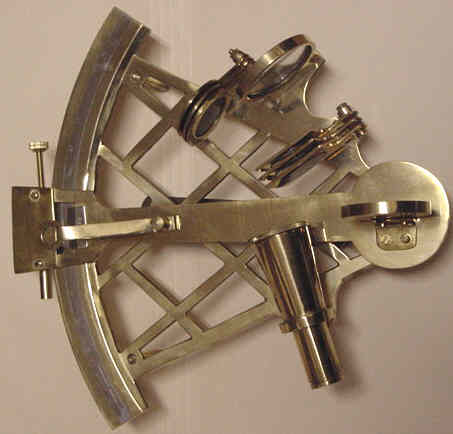 .
(click pic for closeup)
Top Left : Large Nautical brass sextant.$ Can./$. US .....Center: Late period Astrolabe.$100.00Cdn./96.00 US...............
Left: 17th-18thC sundial compass..$28.00 Can/ $19.00 US. ......Far Right: Early period Sextant.$129.00 Cdn./102.00 US....
Right: 18thC round sundial compass...$29.00 Can./$19.80 US
The Astrolabe was used for navagation from 1500 to the early 1700's until the Octant was developed
(in 1731), which soon became the Sextant.
Our early sextant measures 10 1/4 high by 10 inch wide.
Our late period Astrolabe measures 9 inches across the widest point.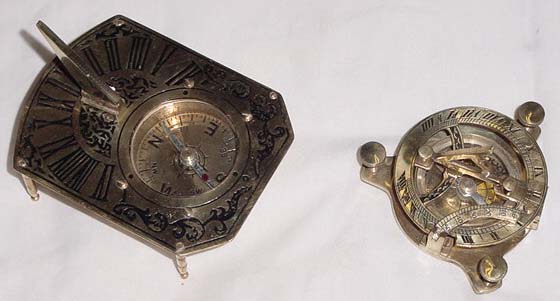 Close up of sundial compasses.
The legs can be removed by unscrewing. Will fit into most pockets, ditty bags and back packs.
The earlier squared version would be more popular for the age of piracy, while the smaller round model would
have been used from approx. 1730's-1800's.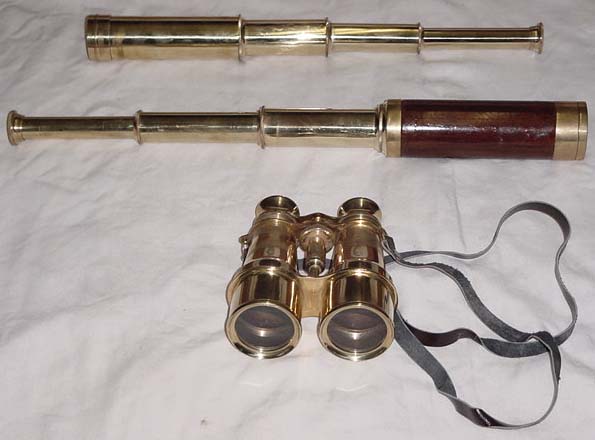 Top: small brass 3 draw telescope... $42.20 Can./$29.51 US
This model would be appropriate for army or navy as well as civilian impression.
Center: Large wood/brass telescope, 3 draw... $61.00 Can./$42.25 US
This model would be better suited to the navy due to size and construction.
Bottom: 19thC brass binoculars, Civil war period and beyond.. $97.00 Can./$68.25 US



(click to enlarge)

Brunton Compass.

- $27.00CAN

- $19.00US
KEY CHAINS (BRASS)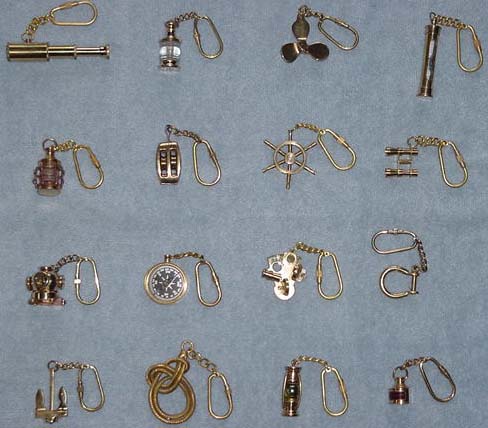 Solid Brass key chains from left to right and going down:
collapsable telescope, glass lantern, propellor, hour glass
lantern, tackle block, ships wheel, binoculars
diving helmet, liquid compass, sextant, clevis
anchor, ships cables, dark glass lantern, ships tail light (lantern)
All priced at $4.85 US/ $6.10 Can. each.
Hourglasses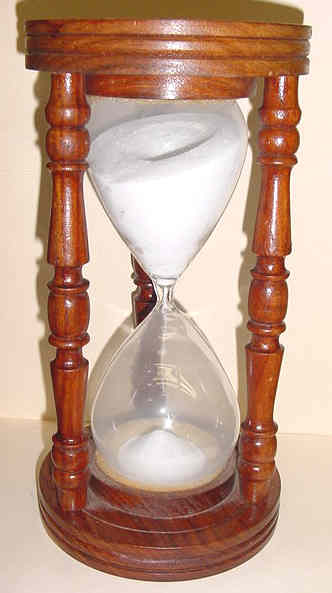 .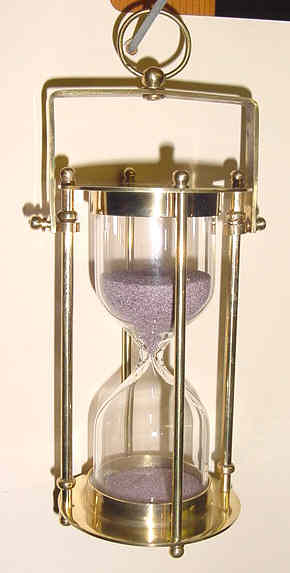 click pics to enlarge
Our large wood hourglass stands approx. 11 1/2" high and 6 inch wide.@ $40.00Cdn./38.50US.
Our brass Sliding Hourglass stands approx. 8" including bar & ring, and is 3" wide @ $40.00Cdn./38.50US.
A demonstration of the sliding hourglass can be seen on the Horatio Hornblower episode "Mutiny".