Loyalist Arms is pleased to introduce our version of the famous Baker Rifle.
The Baker rifle was adopted by the British forces in 1800 and was used all the way into 1838.
It saw service throughout Europe as well as Canada and Mexico. It was used in the war of 1812, at the Alamo,
and the Mexican war, however this rifles' real claim to fame occured during the Napoleonic period
under Admiral Nelson and Sir Arthur Wellesley,(The Duke of Wellington), prior to Waterloo.
Our reproduction faithfully copies the 1806 model with the smaller patch box.
There were many variations of this rifle made by different manufacturers from 1800-30's, combining
different patch boxes, calibers, (.62 & .69), and hardware, etc.
Ours is in .62 cal.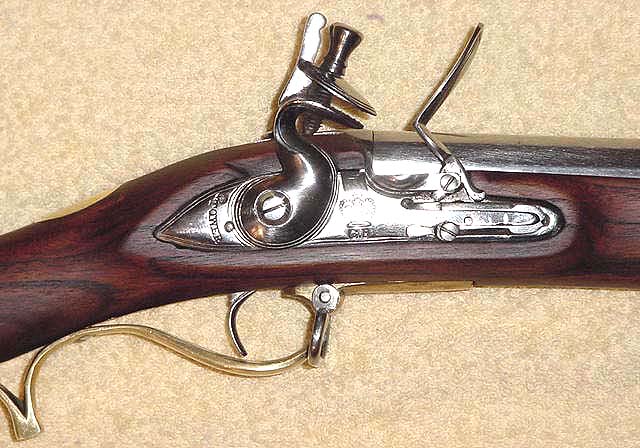 Close up of lock with appropriate markings.


The rear sight is a two stage flip up design like the oiginal.
Correctly styled and fully functional patch box.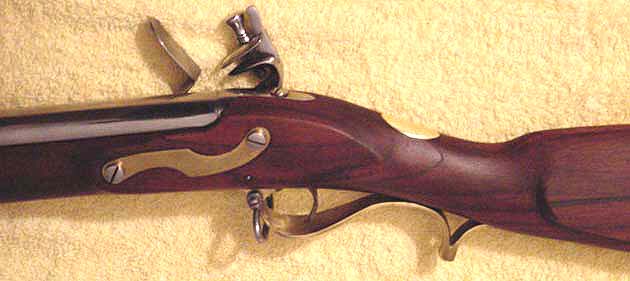 All hardware is copied from an original.


Close up of bayonet lug, front thimble, swivel, and rammer.
Barrel is .62 cal smooth bore to save on production costs, and to make it easier to export to some countries.
Sword bayonet available @ $119.00 US ? $146.00 Can. !!
Our continuing search for quality and much research, has resulted in the most accurate and functional
Baker rifle repro. available, except for of course, the custom made models.
Customers have been asking us for years to develop a less expensive, but accurate version of the Baker.
Only after a long time of research and obtaining all the reliable documentation we could, would we
attempt to start this project.
These guns copy the weight and balance of the originals very closely.

$697.00 US $850.00 CDN
We will be posting the price very soon. We are still negotiating the final cost with the factory.
However, we just couldn't resist posting the pics of our prototype right away.
Production models will be even better than the prototype pictured here!!