loyalist arms supplies the early british sea service musket reproductionly british sea service musket

BRITISH SEA SERVICE MUSKET
(EARLY MODEL)
Loyalist Arms model Sea Service Musket

These early muskets were issued to the British Navy, as well as some marine units in 1715-40's,
but were carried on board His Majestys' ships for many years afterward.
They were a sturdy, plain, no frills musket.
They were basically, a modification of the earlier Queen Anne doglock musket.
Although minor modifications continued throughout the 18th Century, all British sea
service muskets had these similar characteristics.


A detailed description of these muskets can be found, starting on page 182 of Gilkerson's "Boarders Away II".
As you can see, there is no accommodation for neither bayonet nor sling. Bayonets and slings
were not mandated by the Navy until the 1750's.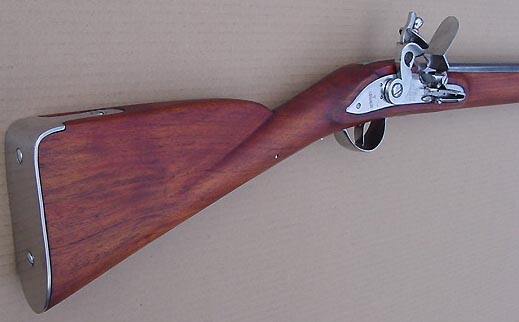 This picture, shows the correct butt plate design, typical of the sea service muskets from the
Queen Anne period right into the early 1800's. Hardware shown is iron, however,
all our models are Brass trimmed now.
Many early models had butt plates nailed on, but for disassembly ease, ours are secured with screws.
Most of these muskets were painted black with an asphalt coating. We can paint them if required.
Please specify at time of purchase, whether you require the stock painted or not.
This model is our prototype. Production models have a square topped frizzen.


The barrel length is 38", tapered round, in a .76 cal., with a wood rammer. It lacks the side plate
and entry thimble that was common to the Brown Bess muskets. These were generally,
tougher but simpler designed muskets, meant for the abuse they were frequently subjected
to during ship board use.
Barrel lengths ranged from 36 to 40", but 46 inch barrels were not uncommon.
Often, rejected Brown Bess barrels that would split near the muzzle, were used for these muskets.
This model was referred to as the short pattern.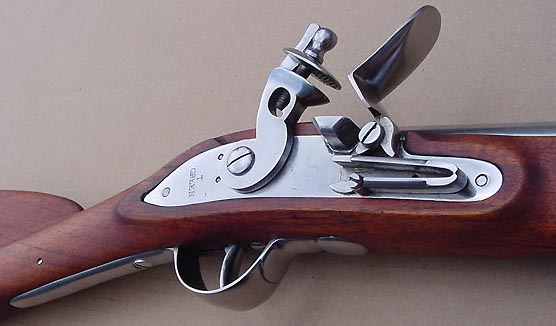 A closeup of the trigger guard & lock assembly. Note the 3 lock screws securing the lock in place.
By the mid 1700's, only two side lock screws were used.
This lock plate is stamped "T Green"**, an early 18thC contract musket builder.
These muskets would be appropriate from the 1715, throughout the F&I, (7 years war period),
Rev. war, and into the war of 1812.
**No name will be stamped on the lock plates unless specified by the customer.
We are only recieving small numbers of these muskets, so order yours while they are available.
PRICE: $850.00 CAN. $697.00 US