DEALERS:
Do you run a business and wish to carry some of our goods?
Please inquire...See below for requirements.
The following US and International dealers are handling some of our products:
Dealer info. and Gallery.
---
.
The Muzzleloader Shop Ltd.
Mr. H. Dykes Reber
603 Brown Drive
North Little Rock, Arkansas 72118
Tel. (501) 758-2222
Serving Muzzleloading shooters since 1980.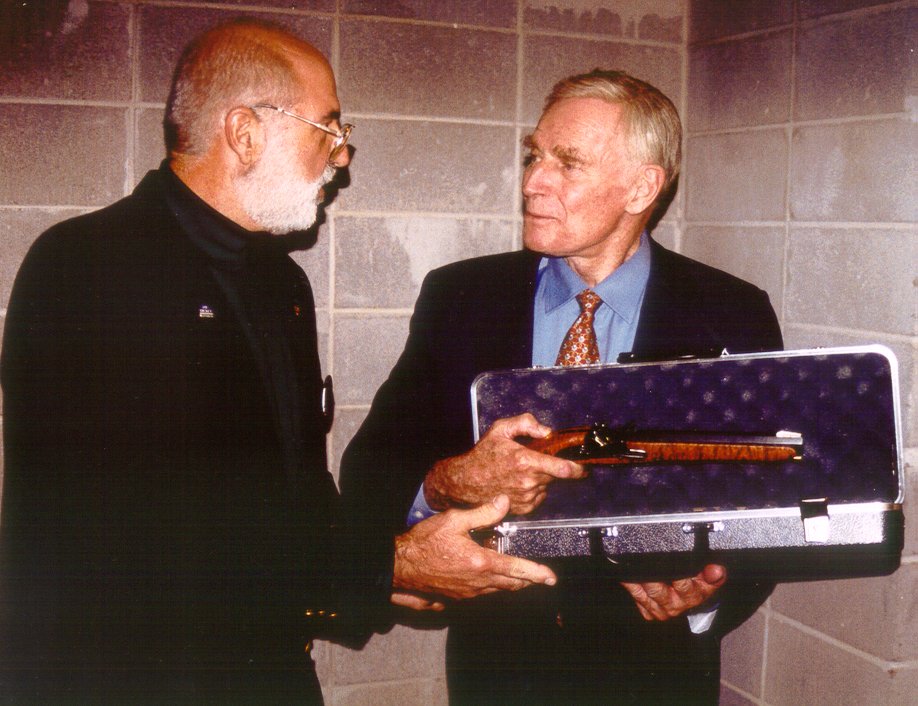 click picture to enlarge.
Picture of Dykes Reber presenting one of his custom made pistols to the great actor, Mr.Charlton Heston.
International Dealers
***We have a dealer in the UK.
Please inquire for their information.
---
DEALER INQUIRY INFORMATION:
We welcome dealer inquiries.
When requesting a dealer price list, please provide us with one of the following:
Photocopy of State/Province tax ID number/certificate
Photocopy of City /State/Province business license
Business Website address
There are minimum purchases necessary to receive wholesale prices. Not all of our products are available wholesale, i.e. Pedersoli, Palmetto Arms and
Euroarms.
---
Please fax or mail to the following:
Fax: 1 (902) 479-0032
Mail: Loyalist Arms And Repairs
10 Brunt Road
Harrietsfield, Nova Scotia
Canada
B3V 1B1

If you have specific questions, please E-mail us, or give us a call at 1 (902) 479-0967.