Loyalist Arms Doglock Blunderbuss .
Due to popular demand, we have developed the blunderbuss made famous by the likes of Blackbeard,
William Kidd, and other pirates, not to mention many a sailor, privateer and coachman.
This model dates from the late 17th Century to the early 18thC.
Some of these tough guns survived right into the early 19thC.
A perfect accessory for your next cruise to the Carib Sea.

These blunderbuss' were rather plain in design, without an entry ram rod thimble or side plate.
The butt plate is simply bent flat iron. Most were nailed on, however ours is screwed on,
(like later models), for ease of removal.
Barrel is brass and is 16 inch long in 10Ga.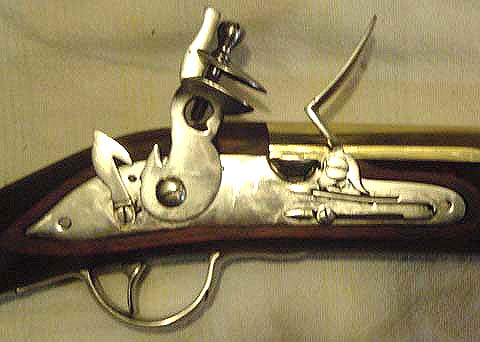 The lock plate is over 7 1/2 inch long, and is fastened with 3 side bolts, just
like the originals. Frizzen is unbridled.
Many similar lock assemblies have been excavated at Port Royal Jamaica
over the last few years.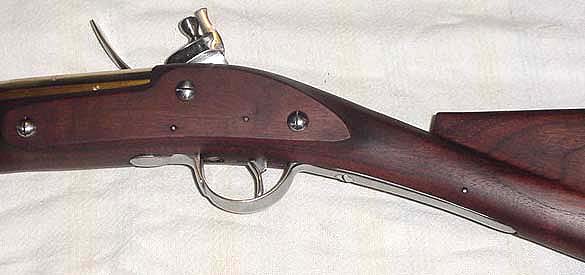 All hardware is copied from an original.
Later versions had side plates of various designs.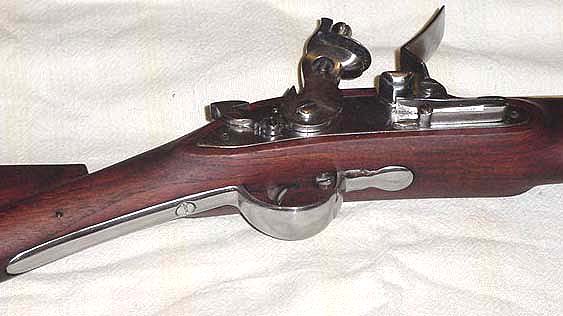 Typical, simple trigger guard of the 1600's, that would continue to be used on sea service
muskets up to the late 1700's.
Tang bolt threads into the breech plug tang from under the stock, just front of the
trigger, like originals.
Order your doglock thunder gun today.
Price $725.00 US / $870.00 Cdn.