1853 TOWER 3 BAND RIFLE (EARLY, FIRST MODEL Enfield)


Early 1853-55 Model, for the Crimean war and American Civil war period.


This Three Band Tower musket, (commonly known as the Enfield),was the first model,(1853-55), in a series of three.
This first model differs from the later Enfields, as there is a very narrow ram rod groove in the stock compared to the later ones.
It also has a simple button head rammer, and the lock plates are usually dated 1854 or 1855.

The above picture is a close up of the ram rod channel, or groove. One of the first changes the British military asked for on later
muskets, was to enlarge the rammer groove and hole, to prevent dirt from jamming the rammer during use in muddy trench conditions.

Britain exported these models to the US first, during the American Civil War, as they were Crimean War surplus. The British
government wanted rid of the earlier models that were already sitting at the Tower armory.
Britain also sold the obsolete 1839 & 1842 smoothbore muskets to the Union and Confederacy during this period.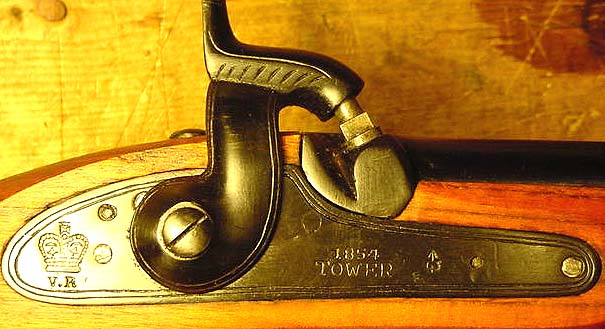 Close up of our beautiful early model lock. The European companies that are currently producing their version of the
"3 Band Enfield", are actually producing the 3rd & final model of 1858-63 with the jag head rammer,
larger nose cap, & larger ram rod groove.

Our early Tower 3 band muskets, are produced in smoothbore only, to save on production costs and are lighter
in weight than the other manufacturers models.
The barrel bands and lock plate are blackened like the originals were.
Each has a warranty, free replacement parts & labor.
Our model has the correctly styled side bolt washers, that are lacking from other imports and have no modern
markings on the barrel or breech that marr the other reproduction muskets.
No defarbing or rebluing is required.

These are great for the reenactor who is looking for an inexpensive musket that is
accurate in looks, (sometimes more so), and slightly different from models previously available.

Order your's today.
PRICE: $745.00 CAN. / $599.00 US.
***correct pattern bayonet and scabbard.***
$60.00 US / $80.00 Can.