Early european matchlock
musket

We at Loyalist Arms, are proud to introduce our matchlock musket.
We have received inquiries for several years for these hard to find items from English Civil War,
16th-17thC. European conflicts, early colonial period and Buccaneer reenactors.
We finally found a source for these muskets and are now producing them.

These muskets feature a lever trigger and have a very wide fantail butt stock but are relatively
light for their looks.
Although all muskets from the early period in history were hand assembled and no two were exactly alike,
there were general patterns that were followed. This pattern could have been used anywhere in continental
Europe or in England. Many made their way to the colonies and were still in use along side the
snaphaunce, wheel lock, doglock, and flintlock.
This style would have been commonly used from the mid 1500's into the late 1600's in Europe.


Any Cavalier, musketeer, colonist, or buccaneer would be proud to handle such a fine work of art.
The butt has a flat iron plate fastened to it, to prevent any chipping or splitting, should the butt make any solid
contact with the ground.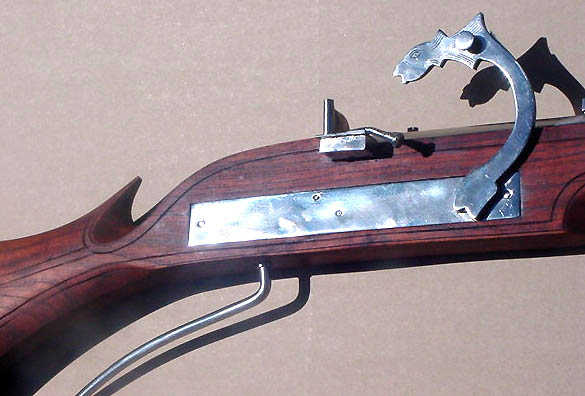 Close up of lock and trigger assembly.
Generally speaking, there were not a lot of markings on the lock plates of matchlocks unlike the
British flintlocks of a later period, where dates and makers names abounded. On the rare occasion, the
maker might inscribe a name or initial.
Ours are left blank for the customer to inscribe the lock plate at their discretion.
Specs:
Barrel: 44 inch long, octagon to round with a cannon muzzle.
Caliber: .729, (12 ga.), with wood rammer and iron blade front sight.
Stock: Flared butt style with flat iron butt plate and inset carving, (two lines), along
the edges of the stock. Rosewood.
Hardware: Iron.
Suggested load: 75 grains FFg black powder only. Ball size of .690 -.715.
Match cord of 3/8" diameter recommended.

These muskets are almost identical to the ones used in the movie "Man in the Iron Mask",
as well as in the TV documentary "Pirates" from The Learning channel.
This type of musket was also used on a grand scale, in the Spanish movie "Alatriste", (2006). .
Order yours today.
These muskets would look great along with our English lock or wheellock pistols.

Price:
US $699.00 / Can. $799.00
***Purchase one of these muskets with an english lock pistol and save $35.00 US/49.00 Cdn.