Military Blunderbuss, new model
.
Loyalist Arms & Repairs is pleased to offer an updated version of our military blunderbuss.
Exclusively made for Loyalist Arms.
Not available anywhere else in the world !!
.



This model, with a 16" brass barrel, in 77 cal, has the George 1st pattern lock measuring over 7" long.
We have added the early pattern butt plate, side plate, and trigger guard to make our already popular
Blunderbuss, even more authentic.
These guns are offered with optional lock markings,(crown over GR), as they
closely resemble the Dutch blunderbuss of the same period.
Simply apply your own markings on the lock, and you will have a close copy of the Dutch arm.
.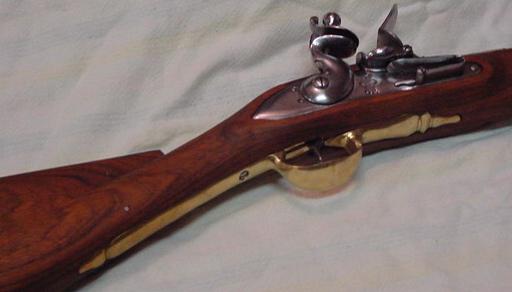 Details of early 1720's trigger guard.
This firearm is appropriate for both Navy and Infantry applications, as well as privateer, and pirate impressions.
.



Details of large, early style butt plate.
.
We are always striving to make our items more historically accurate, so we have introduced these new
modifications.
These are appropriate for the 1700-1800 period.
This design can be back dated even further by removing the frizzen bridle, and by converting to a doglock.
The price is the same as our other blunderbuss models.
$649.00 US / $780.00 Cdn.
We have these models in stock for immediate delivery!!!
.
return to mainpage