The M1842 was the first regulation smoothbore percussion musket to be adopted by the US.
Over 270,000 of these muskets were manufactured by both Harpers Ferry and Springfield from 1844-55 with
another 6000 made from 1856-58 that were rifled.
The hardware on these models were all iron.
The Palmetto Armory in South Carolina also made a version of this model, (6020 in total), with brass
furniture from 1852-53.
These were a sturdy workhorse of the US infantry from the 1840's right into the Civil War period
and were carried by both the Federal and Confederate forces.

.
Harpers Ferry model, dated 1844 .Iron mounted.
The Union army slowly replaced this model as more rifles of .58 cal. became available and
turned them over to the state militias. The Confederate army did the same.
It is said that Gen. Thomas,(Stonewall), Jackson was mortally wounded by at least one of these muskets,
during an evening scouting mission, which was fired by his own forces on picket duty.
He was shot several times that fateful evening along with several others in his scouting party..


This is the Palmetto Armory (South Carolina) version made with Brass furniture and
Palmetto stampings. All dimensions are the same as the 1842 Springfield and Harpers Ferry models.


Palmetto S.C. model.
Either model would be appropriate for Confederate impressions.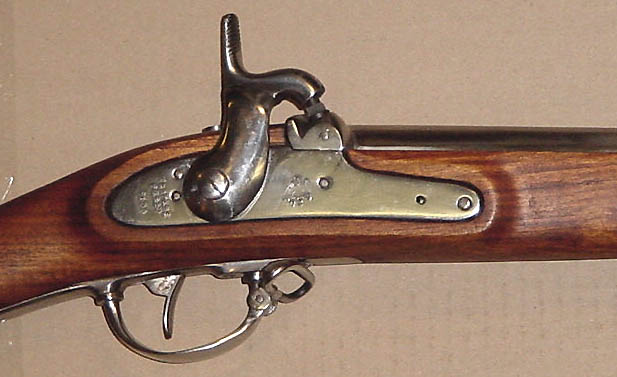 Marking on this lock plate are, "HARPERS/FERRY" over "1844", and Eagle over "U.S." Also, "P" & "V" on
breech area and "1844" on the tang.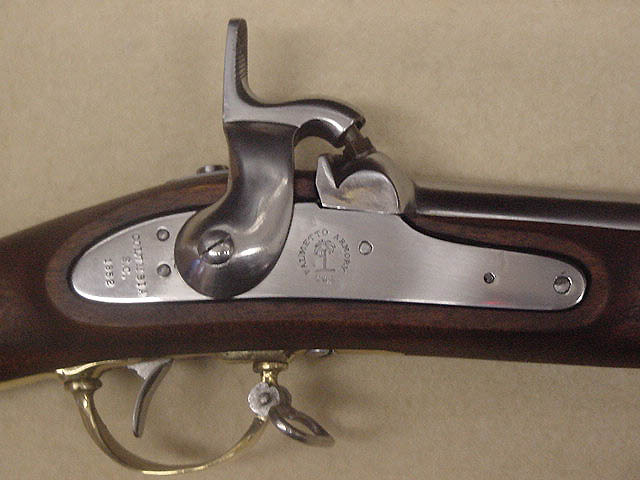 Palmetto model with correct markings, "PALMETTO ARMORY" over "S.C.", surrounding the palmetto tree.
Also, "COLUMBIA" over "S.C." and "1852" on the tail of the lock plate.
Breech area is marked "P" & "V" as well as "W.G.& Co. (for William Glaze & Company), to the left side
of the barrel, and "1852" on breech tang.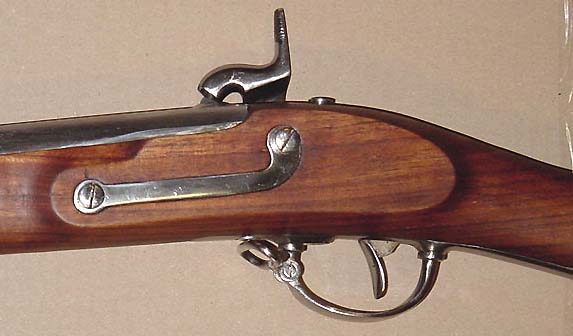 Harpers Ferry model, Iron hardware.
We have the proper bayonets and scabbards for these models @ $64.00 US/ $85.00 Cdn..
Please inquire for current availability as these muskets are selling fast.
SPECS:
Barrel: .69 cal, 42" long tapered round.
OAL: approx. 57 3/4 ".
Weight: approx. 9 lbs.
Hardware: either iron (1842) or brass (Palmetto 1852).
These models take the Euroarms musket nipple of 8mm X 1.25 metric.
All loading and proofing data supplied with the musket.
PRICE:
$670.00 US / $825.00 CDN.