Early British Trade Gun
&
French Fusil de Chasse

Introducing Loyalist Arms two new trade guns
We have had a lot of inquiries over the years for both guns, so here they are!!

Both the English and French governments sent thousands of these less expensive
trade guns to the colonies in North America and the Caribbean to arm the colonists.
These guns were also used to trade with the native peoples for furs and to gain military and
trade alliances with them.
Generally speaking, trade guns were of a lower quality and finish than the military musket
and many were of questionable safety, (although our copies are fully functional and safe).
Trade guns were usually of a smaller bore and lighter than the regulation musket of
the period, however large bore fowlers were not uncommon.
Both these guns predate the F & I war, so they would both be acceptable for F&I as well
as Rev. War and beyond. For an even earlier period English trade gun, (1670's-1720's), we
have the Doglock musket and musketoon available, (pictured elsewhere).
--------------------------------------------------------------------------

1) Our early French Fusil de Chasse, ( hunting gun), dates from the 1690's to the 1730's.
Of course, these guns were used throughout the 18th Century but the styling slowly changed as time progressed.
Many of these guns were also carried by French officers who wanted a lighter firearm.
The stock extends to the muzzle and was not designed to accept a bayonet as these were
commercial and not military guns. They have wooden rammers as well.
Trim is all brass. With a few well placed brass tacks, this would be great for a native American impression.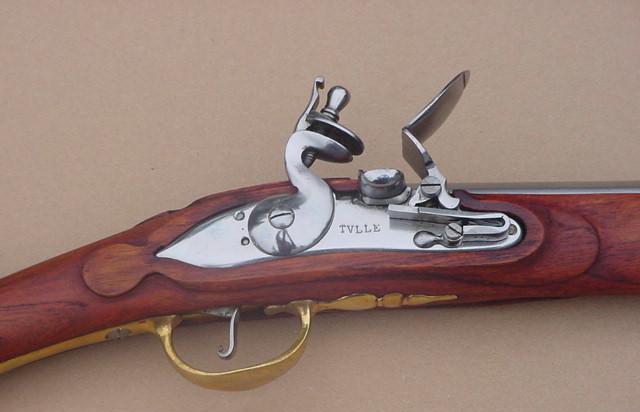 Lock is of the early rounded configuration. In the late 1720's-early 1730's, the lock profile was flattened.
This lock has no bridle for the frizzen like the originals.
Markings on lock are "TVLLE" or if customer wishes, lock plate can be left blank.
Our model is the plainer and more common version than the Fusil Fin or Chiefs grade fusil.


Specs:
Barrel, .62 cal., 44 1/2 inch long, oct. to round with 2 wedding bands.
Hardware; brass, with wood rammer.
OA Length 60 1/2 inch approx.
PRICE:
$697.00US / $850.00Cdn.
---

2) Our early English trade gun dates from the 1720's-60's.
As with the French trade guns, these were made as cheaply as possible with no frills.
Trade guns were made by a variety of commercial gun builders of many different designs.
They were not designed to take a bayonet nor a steel rammer. Butt plate is a simple bent piece of flat brass.
Has the serpentine style side plate installed.
This model is slightly shorter than the fusil de chasse.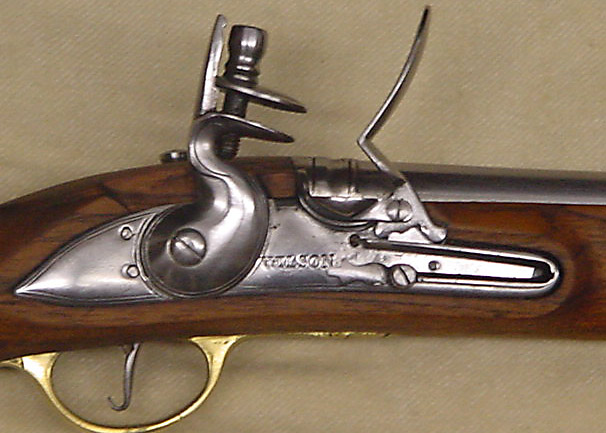 Lock has a bridled frizzen. Lock plate is blank or has "WILSON" stamped .
Our production trade guns have a slightly different shaped trigger guard than the one pictured.
(Pic coming soon.)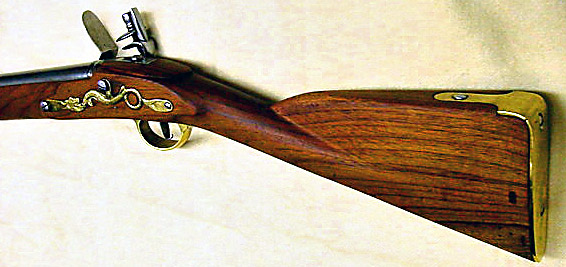 Rear view of flat brass buttplate and serpentine side plate.
These are a sturdy little gun, and due to the relatively short barrel, very easy to point.
Specs:
Barrel; 37 inch long in .62 cal, tapered round.
Hardware; Brass, wood rammer, serpentine sideplate, flat butt plate.
OA length, 52 1/2 inch approx.
Weight: Approx. 8.2 lbs.
PRICE:
$ 697.00 US/ $ 850.00Cdn.
Loading and proofing data included with both guns.
All moving parts warranted for 6 months and all springs for 1 year.