GIFTS, NOTIONS, HOUSEWARES, PIRATE ITEMS & SOUVENIRS

Due to popular demand for giftware, pirate items, and the increasing number of younger customers, we have
added another line of items geared specifically toward this market.

Gifts and Notions

Replica Coins.

click to enlarge
To fulfill that Pirates dream of avarise and treasure.
All our coins are copied from originals, however our less expensive coins are made of a zink alloy, while our more
expensive coins are made of brass and pewter.
A.
#LAC41AG

Spanish gold cobs 2 escudo, @

$ 1.15 Cdn/ $1.00 US


B.

#LAC43AS

Spanish silver coin 4 reale, @

$1.79 Cdn/ $1.57 US


C.

#LAC43AG

Spanish Doubloons 4 escudo, @

$1.79 Cdn./ $1.57 US


D.

#LAC44AS

Spanish Pieces of eight @

$ 2.20 Cdn/ $1.92 US

***

*


H.

#LAC41AS

(no picture) Span. silver cob, 2 reale, @ $1.25 Cdn./ $1.15 US


H is the same size as A.




***

These pieces of eight can be seen throughout the Disney Movie, "Pirates of the Caribbean." "At Worlds End".
E

.#LACFR

French Silver coin 1717 pewter, high quality @

$ 3.20 Cdn/$2.25 US


F.

#LAPEC

Spanish piece of eight, pewter, high quality @

$3.40 Cdn/$2.50 US


G.

#LAS6D

Spanish doubloon, Brass, high quality. @

$3.20 Cdn/$2.25 US




IMPORTANT !!

Please state part number when ordering coins.

Replica Pistols, (non-firing)
Zink metal and wood stocks. Locks really work.
Have the weight of the real thing. For display or props.
Would look nice tucked in your belt.
These are not toys and will not take a lot of abuse.
A. Queen pistol w.simulated brass barrel & left hand lock. 13 3/4" long. price. $47.00 US/ $61.75 Cdn.
B. Belgian flintlock pistol. 11" long. Price. $54.00 Cdn/ $41.00 US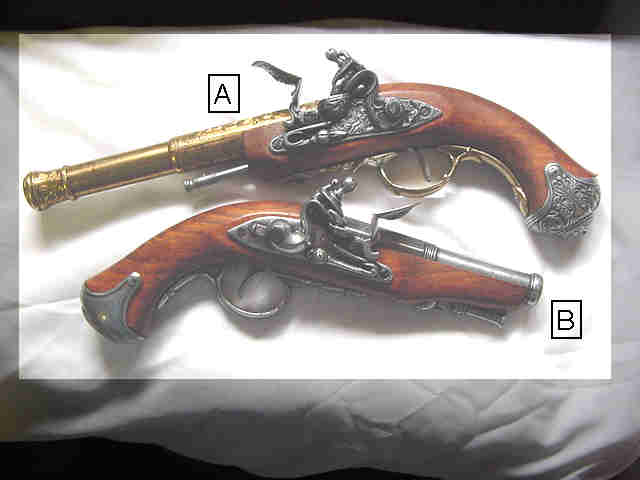 click pics to enlarge
Iron Forged cutlery set.
Medieval period to late 18th century.
Price.$29.95 Cdn/ $26.75 US
Wooden Treasure chest with contents.
A great little gift for any occasion for adult or child pirate.
Chest is solid wood with brass trim, containing a sample, replica gold Spanish cob,(coin), and a replica treasure map
of the "Isle of Oaks", in other words, Oak Island, Nova Scotia.
Price: $6.99 Cdn/ $6.24 US
Gift/Souvenir compass's
#A. small wood encased, fully functional. Approx. 2 inch diameter X 1 1/2" high.
Has brass anchor inlet into wood cover. price $9.50 Cdn/ $8.48 US
#B. Sundial compass, pocket model. Accurate reproduction of mid 1700's. model.
Solid Brass. 2 3/4 " diameter. price: $22.96 Cdn/ $19.80 US
Both models are fully functional, beautiful items.
Tricorn Hats
Not historically authentic but look good and very inexpensive.
Adult Large size with gold trim, permafelt construction. price. $15.00 Cdn/$13.50 US
Large child/small adult size with maribu trim, permafelt cons. price. $11.25 Cdn/$10.10 US

Buccaneer/Pirate costume Shirt
Off white, poly/cotton. Fits adults up to a 44 chest easily.
Frilly cuffs and neck for the gentleman or lady pirate.
Price: $30.00 Cdn/$27.00 US
TOYS
For the little pirates.
A. Toy flintlock pistol
Made of plastic & lock works.14" long.
price.$ 6.49 Cdn/$5.79 US
B. Toy Compasses
Made of plastic & works.
Price. $2.50 Cdn/$2.25 US
C. Toy telescopes
Made of plastic & works.
price.$3.00/$2.70 US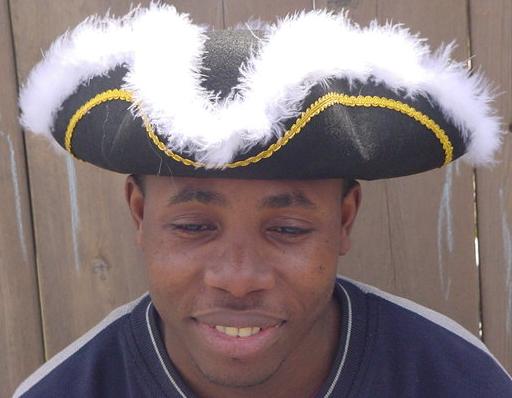 .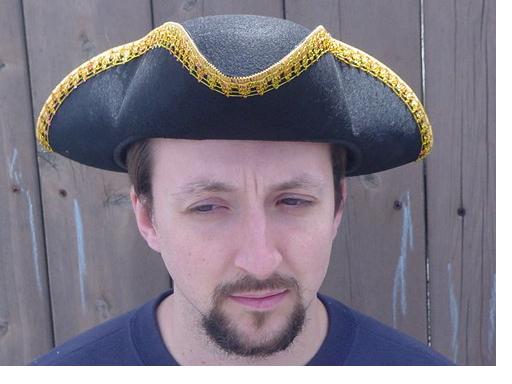 .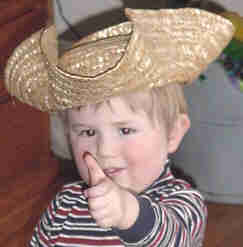 .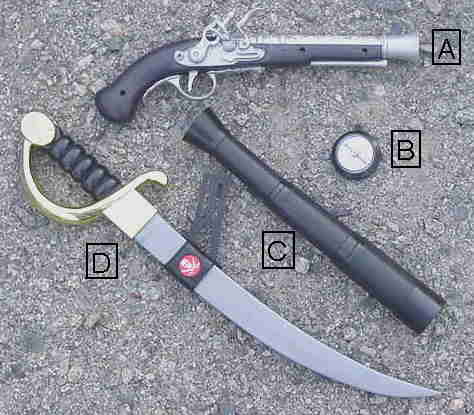 Tricorn Hats
Not historically authentic but look good and very inexpensive.
Large child/small adult size with maribu trim, permafelt construction Price: $11.25 Cdn/$10.10 US
Adult size with gold trim, permafelt construction Price: $15.00 Cdn/$13.50 US
Small child size, straw Price: $4.50 Cdn/ $4.05 US
D. Plastic Swords
Comes with clip for a belt.
price.$ 4.75 Cdn/ $3.95 US
***More Giftware can be found on our Nautical Accessory Page***
(CLICK HERE)