Loyalist Arms is now offering FULL SCALE replica cannons.
For film & stage props, decor for home or office building, historic sites, or for those who simply cannot afford to own the real thing.
These cannons are safe and cannot be fired.
These items are already finding their way into museums in the US.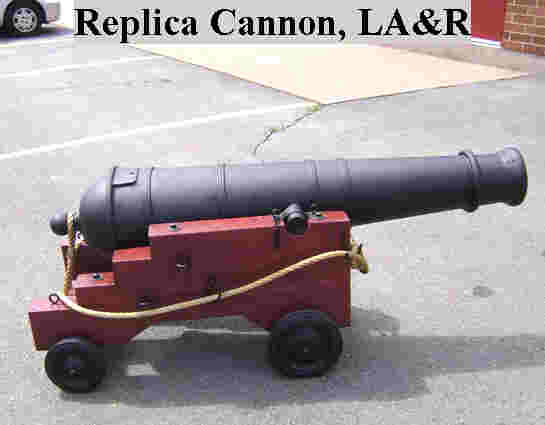 .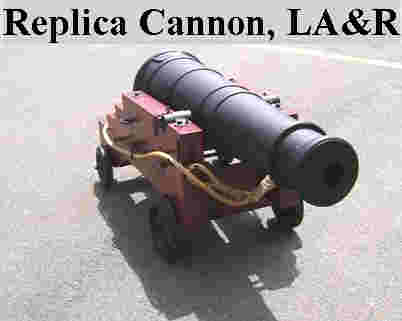 .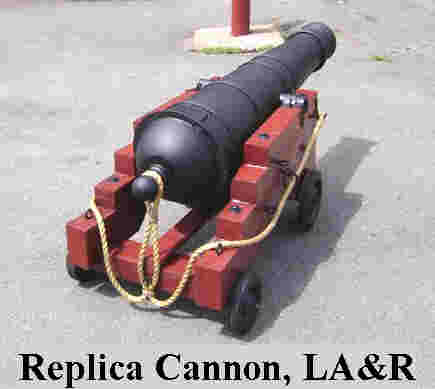 click pictures for close up.
The model pictured, is a naval carriage, 9 pounder. The Garrison style carriage would be almost identical.
Specs: Barrel: Durable hollow plastic with black iron finish, over 5 feet long with false liner.
Carriage: solid wood, 40 inches long and 16 inch high at front; hand crafted.
Wheels:composite wood for durability; Front O.D. 10 inch, Rear O.D. 9 inch.
Weight: approx. 85 pounds. Can easily be picked up and carried by two people.
Barrel and wheels, and carriage can be separated for packaging and shipping.

These replica cannons are manufactured here in Nova Scotia, Canada, a province famous for privateers, pirates
naval battles, early forts, and buried treasure, as well as the oldest permanent settlement in North America.
Barrel is made from durable plastic, with a finish that looks extremely close to cast iron.
Carriage is made of hand fashioned wood and can be had in red or light grey.
Wheels are made of composite wood and can be painted by customer to simulate wood or iron.
What every pirate, privateer, military historian, ex-naval person, or the guy, who has everything wants:
An awesome, full scale replica cannon would look great, guarding your driveway, or placed on your deck, or wharf.
Maybe it would hold a place of honour, next to the flagpole at your cottage or legion, or perhaps would give your
yacht or sailboat that old world look.
Add some historical class to the front of your shop or store.
Take one along to the next living history event, and park it next to your tent.
This item is a real attention grabber.
Available now for only $679.00 US / $820.00 Cdn. Shipping extra.
Can be shipped anywhere.
Cannon Barrel can also be purchased separately, without carriage. Please email for pricing.
Production is limited, so order yours today to reduce waiting time.
This item would make a great gift for the pirate who has everything and is hard to buy for.